As more and more businesses turn to video content to showcase their brand, services and products, YouTube has become a huge opportunity for raising awareness and reaching new audiences.
YouTube is the 2nd largest search engine in the world, attracting billions of users internationally. Localised in more than 100 countries, YouTube gives businesses a platform for international reach on a massive scale. It was recently announced that since Covid began, our attention spans have reduced, meaning people are less likely to take the time to read a blog or research a topic for any length of time. Instead, they are pivoting towards quick fixes, video tutorials and audio content.

Jump to...
Why should businesses use YouTube?
The benefits of showcasing your brand on YouTube the same way you do on Google are clear. There are currently over 2 billion active monthly users, with 90% of people saying they discovered new brands or products via a video. Not only does YouTube have a large number of users, but it also provides an engaged audience that on average consume over 1 billion hours of videos each day. Like other platforms such as TikTok, Snapchat and Instagram, YouTube helps businesses engage with a younger audience they may miss otherwise.
As well as bringing you more traffic, YouTube also helps to engage your users before they reach your website. Instead of being faced with a page full of text, customers can enjoy video content that has been specially designed for them, their needs and search queries.
It's been said for a while that video is the most engaging form of content, and with the pandemic pushing more people online than ever before, this couldn't be more accurate in this digital age. One study shows that video content is 1200% more successful than other forms, resulting in 84% of customers making a purchase after watching.
Like any content, if you're creating it, you should be considering its SEO value and how you can optimise it for search. By optimising the channel, playlist and videos, you increase the opportunity for your content to appear at the top of the search results. Owning more search real-estate means you can push competitors below the fold.
The graphic below shows the difference between unoptimised and optimised content on YouTube. By sticking to best practices and conducting thorough research, we were able to help this client rank 1st for user search queries, push competitors below the fold and display timestamp topics for a better search experience.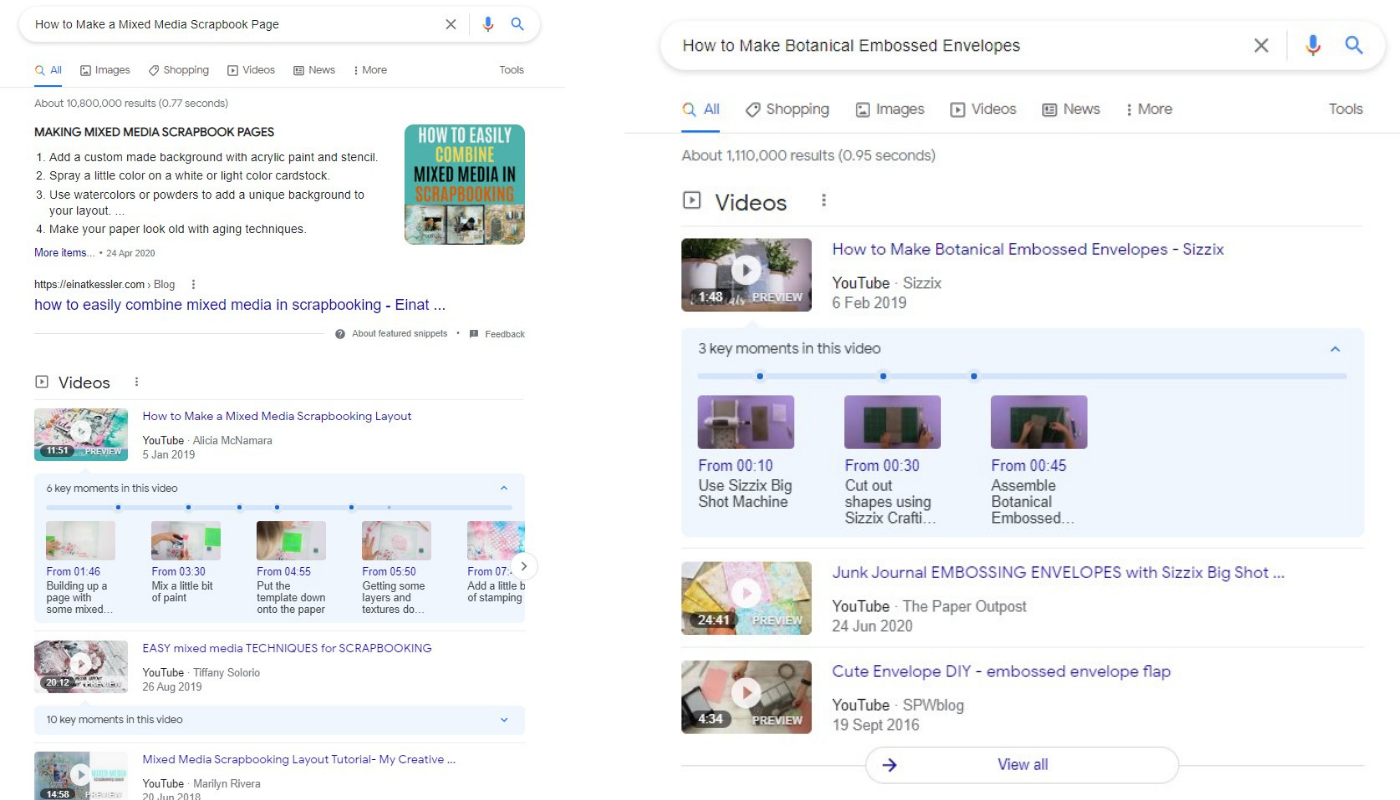 YouTube best practice.
YouTube optimisation can be broken down into three main elements for consideration.
Channel: Top-level page for the channel. Gives you access to your Dashboard, Analytics, Copyright Claims etc.
Playlist: Create video playlists to further improve the reach of channel videos across other YouTube videos.
Videos: Optimise videos so that the videos pull into other associated playlists along with the search results.
How to optimise your YouTube channel.
Your channel should showcase your brand, business and give visitors everything they need to know. Like when a user comes onto your site for the first time, they should be greeted by coherent and consistent branding that clearly defines and reflects your company.
The best place to start is with your profile picture, banner image and watermark. Make sure your logo is your profile picture, as this will be presented front and centre on your channel. The watermark will appear on your videos in the right-hand corner, so this is another great place to showcase your logo. Optimising image size and quality will also improve first impressions for new visitors.
Every channel must have a name and description. It may sound obvious, but make sure your channel name makes sense! Use your company name. You'd be surprised how often this is overlooked. For the description, you are limited to 1000 characters, so be careful with your choice. Try to include backlinks to your site, keywords that relate to what you do/ sectors you work in and keep it simple.
When setting up your channel, you can create a memorable custom URL, making it easier for your audience to recognise, remember and share.
Add as many links back to the site as you can. Depending on which destination you are trying to drive traffic back to, you can also include links to other social platforms. This will help support the performance of individual platforms and get them working better together.
How to optimise your YouTube Playlists.
Playlists are powerful. Our advice is to create as many playlists as possible. Videos can be used across different playlists, but it's crucial to keep them relevant as the YouTube algorithm views the relationship between the video and playlist.
Review competitor performance.
This enables us to understand how difficult it'll be to rank and be found within YouTube. This also gives us an understanding of the type of playlists and videos they've created. This makes it easier for us to devise a strategy for the videos along with a storyboard for future content.
Utilise series playlists.
Series playlists allow you to mark your playlist as an official set of videos that should be viewed together. Adding a video to a series playlist allows other videos in the playlist to be featured and recommended when someone is viewing a video in the series playlist. YouTube may use this information to modify how the videos are presented or discovered.
Perfect your title and description.
Your playlist title is limited to 150 Characters, so try to use keywords that relate to the content within the videos. YouTube uses these to attribute towards a search query. Meaning the better related and researched your keywords, the better the traffic to your playlist.
Playlist descriptions are capped at 5,000 characters. Within this, again you should include as many keywords as possible. Use this section to build the association between the playlist and search queries. Add in links to the relevant section on-site to build an external backlink profile for your site.
Our client example:
Working with our client Ellison, we optimised for YouTube following best practice guidelines. Starting with the content they already had, we were able to update existing material and create a plan for future success. For this client, there were 73 playlists created, none of which were optimised. Using keyword research, we were able to update the playlist title and description for the most sought after keywords. By optimising for generic keywords, we increased the possibility of the playlists being returned back within the search results.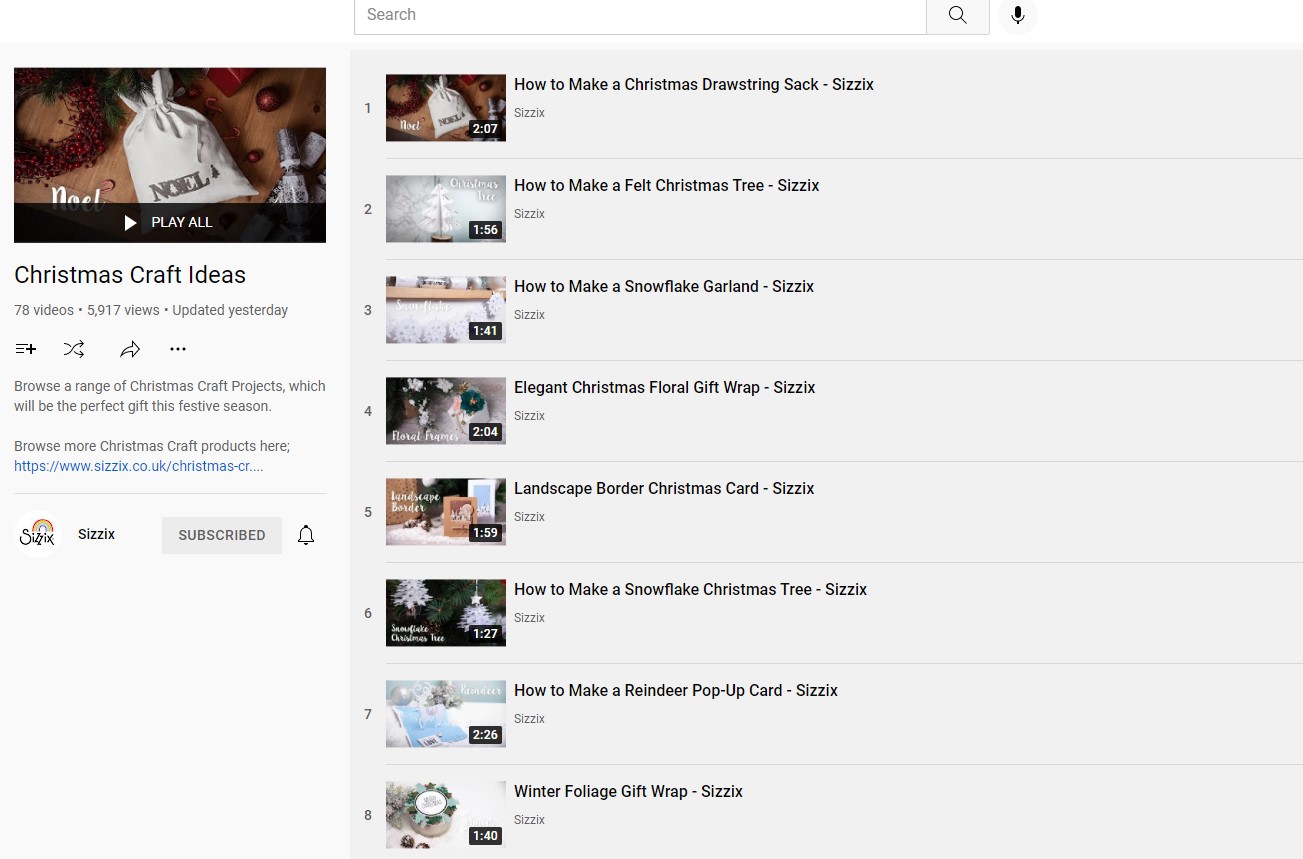 For this example, we identified an opportunity to capture 'Home Sewn' based keywords, due to low competition volume. As a whole, there are over 9,000 monthly searches in Google for this term. We used this research to form the playlist title and description recommendation. Our playlist is now ranking in Position 1 within YouTube after two months of optimising.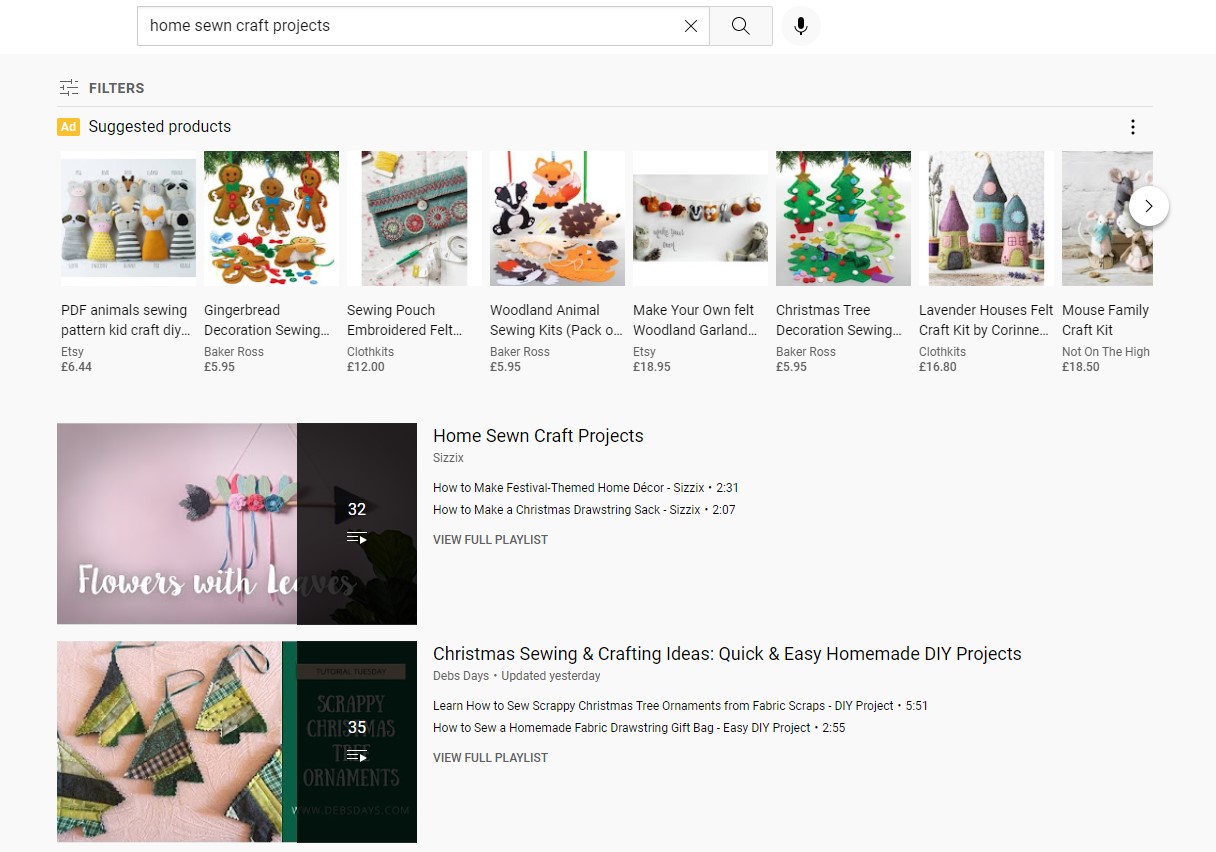 Keyword research helps you identify clusters/themes to capture your audience and identify areas of low competition that you can attack with a dedicated playlist. Understanding the user search query is the most difficult part of the process. Once this has been completed and tagged up the next part is to look at the search intent as "clusters".
How to optimise your YouTube videos
Video Title.
First things first, your video title. This should be punchy and grab the user. Keep it short and simple, avoiding wordy text. Titles play a large part in the ranking of your video, so make sure they are at least five words long and include the keyword that you want to rank for. You are limited to 100 characters for each title. Best performing videos are titles based upon Q&A topics such as 'How to', 'Can I' and 'How do I'.
Video Description.
When writing the descriptions for your videos, it's important to be thorough and make the most of the space you have. Many people make the mistake of only writing a few sentences for the description. This is your chance to expand on the information in the video with links and CTA's.
You have a 5,000 character length limit allocation for each video description. YouTube uses the keywords within the description to help rank the video within the platform, therefore use as many keywords as possible (opposite to normal search). Try to add the best description of the video "above the fold", with an enticing CTA to showcase to the user to "read more" on the description. Add a list of links to the relevant pages of your website to help improve the search performance of the site.
Make sure you are linking in the description to everywhere that you want your potential fan base to go. This includes your social media channels, your website, and other videos. Choose your most important link to display above the fold in the description.
Timestamps.
As simple as they sound, timestamps are one of the most important factors when it comes to YouTube optimisation. Within each specific video, you can pinpoint if the content is covering a specific topic by timestamping that section and that part of the video will be returned back into the search results. This part of the process can be tedious if the videos/storyboarding doesn't follow a set structure.
In the example below you can see we've clearly marked timestamps based upon how the user would search for that given topic. For example 'How to use the Sizzix Big Shot Die Machine'.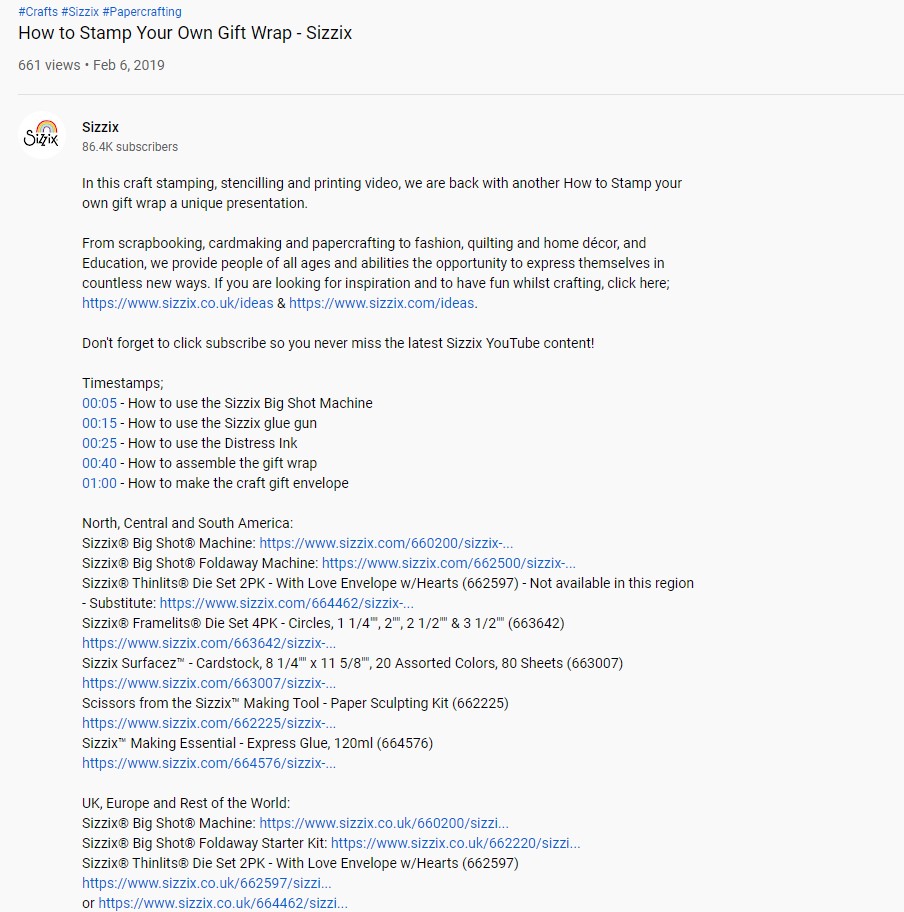 Hashtags.
The hashtags used on a given video contribute to how the platform understands the context. This means when a listed hashtag has been used, the video will appear in the search results. Our top tips for hashtags include:
Try to use as many hashtags as possible.
Be creative and use the keyword research to help derive the hashtags, but make sure they are relevant to the video.
Use a mixture of branded, generic and seasonal based hashtags.
Video Transcript.
The video transcript (i.e., captions) serves as additional copy that is considered in YouTube's rankings algorithm. There are automated tools out there such as Descript that do a good job when it comes to transcript creation. This will make the video optimisation process a lot more efficient, meaning you won't have to manually transcribe every word.
Thumbnail.
Your thumbnail is an important element for attracting viewers and subscribers. Customise your thumbnail image with titles and fun graphics to stand out in search results.
At the end of every video you explicitly want to tell the user what to do next, whether that is subscribe, view more, go to the site. Your CTA should be clear and related to the video content. Basically, whatever the KPIs you are working against, you need to tell the user to do that.
The Results.
Working with our performance client Ellison, we've helped them optimise their YouTube channel for the creative, craft brand Sizzix. By using our knowledge of best practice YouTube SEO we've combined all the elements mentioned to create a strategy that works. Since beginning the work in August 2021, Sizzix has seen the following results from SEO activities:
7% increase in channel subscribers since the beginning of August.
Channel subscribers have increased from 81,000 to 86,000 so far.
Before optimisation the site was averaging 6,000 sessions from YouTube traffic, now they are seeing 22,000 sessions.
No changes were made to the type of content uploaded, instead, these results have come from platform optimisation alone. With these practices in place, we're seeing continued growth in the number of views across all videos uploaded. We've been able to resurface older videos, making them more relevant for the audience which has since been consumed by subscribers and non-subscribers.
The red box shows where the optimisation began.

How we're bringing YouTube optimisation to recruitment.
Video content within the recruitment sector is becoming a huge trend for both employers and agencies. Working with Apprentify we've conducted initial research to help them improve their content visibility and drive more traffic back to the site. This started with competitor research to identify the performance of other channels within the recruitment and apprenticeship space. By first reviewing the competitor's performance we can get a clear idea of how difficult it will be to rank and be found within YouTube. This will also give us an understanding of the type of playlists they've created, making it easier for us to devise a strategy.
From the keyword research, we can identify clusters/themes to capture both employer and candidate searchers. Understanding the user query is the most difficult part of the process. Once this has been completed and tagged up the next part is to look at the search intent as 'clusters'.
From an employer perspective, our aim is to get an understanding of the potential pain points to make it easier for the employer to convert. From here we can create a storyboard. Storyboarding is the process of defining set topics to cover within the video. By doing this we can give clear areas for time stamping, easily signposting content for viewers. This makes the editing of the video much easier, saving time and keeping the conversation on the topic at hand.

From this, we can then make suggestions for the playlists based on the topics we want to cover. With this information the team at Apprentify now have a clear structure, giving them the research needed to brainstorm topics for future content.
---
Are you looking to ramp up your YouTube marketing strategy?
YouTube optimisation is becoming more and more important for appearing in search results, creating relevant content and reaching more people with focused topics and keywords. We're seeing fantastic results so far and are working hard to get more clients and brands to understand the importance of optimised video content. If you'd like to learn more about our SEO strategies and how we could support your business, speak to an expert and learn more about our performance marketing approach.