How are you adding value for your client audience?
Adding value refers to the content, insights, and actions you do as a business for your target audience. The 'value' varies depending on your sector, the type of customers you have, and their unique motivators. Effective value-add marketing considers audience personas and offers tailored content that is relevant to them and their challenges. Generic blogs, advice, and marketing offer no return and won't be enough to win the attention of client leads in this challenging market.
In this client-hungry market, agencies are screaming out for creative campaigns and clever strategies that deliver returns and drive MQLs. But with all the marketing noise out there, how can your brand stand out and add value?
In this guide, we're exploring the importance of B2B marketing, value-add content, and how agencies can target businesses at different stages of growth through relevant, valuable content.


What is B2B marketing?
In recruitment, B2B marketing is any marketing activity that targets businesses over candidates. This type of marketing is aimed at generating client engagement and lead generation rather than candidate applications. Within B2B marketing, there are usually multiple decision makers that need to be considered as the 'customer'. Within the recruitment sector, these could be directors, hiring managers or HR.
Reaching a B2B audience is more challenging than B2C, as it involves carefully crafted content, tactical campaigns and more time invested in building trust and relationships.


The B2B sales and marketing funnel
The B2B marketing funnel is a great place to start when designing your client attraction strategy. This framework displays how leads will enter your sales process from their initial research through to action and brand loyalty. The purpose of this funnel is to guide your market and your customers through the journey to become qualified leads.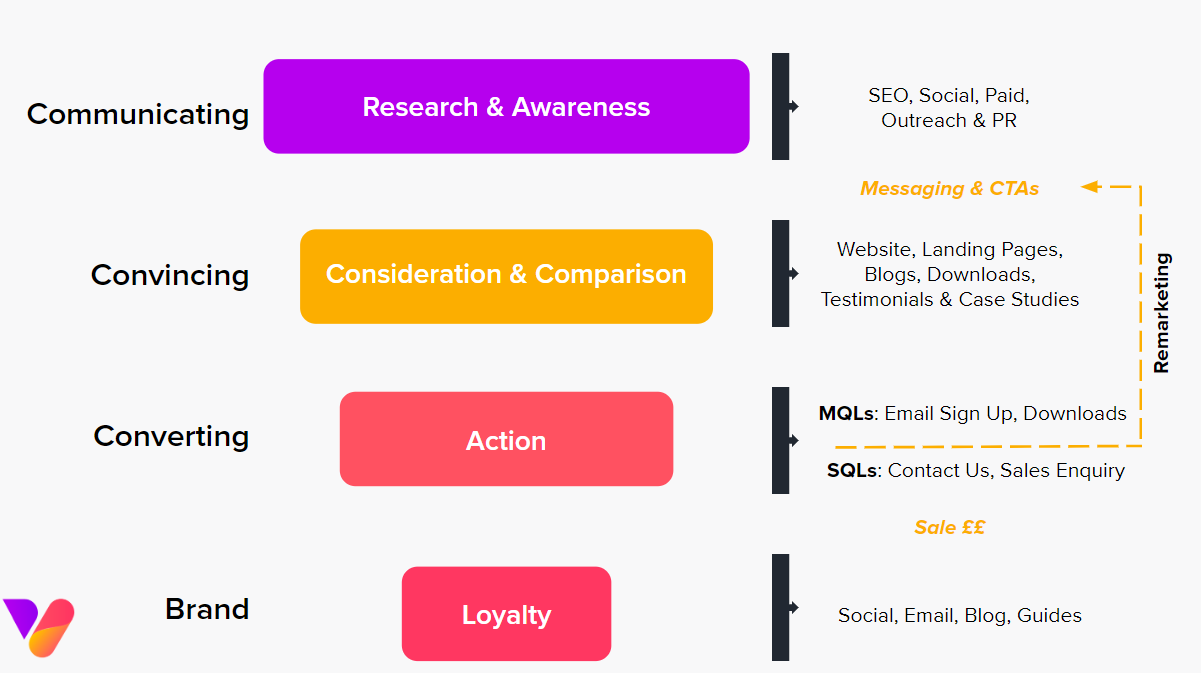 Step 1. Research & Awareness
Your clients will begin their journey with a problem that needs solving. This could be a hiring need or advice on anything from salaries to marketing mapping or leadership development. This is where SEO and outbound marketing come into play. To be successful at this stage, you need to be producing content that is relevant to the search queries your prospects are using. Ensure your content is targeting their pain points, offering value and standing out from your competitors.
Step 2. Consideration & Comparison
Is your website and landing page content doing a good job of reflecting your services and sectors? After clients have found you, their next steps will be to learn more about your business, what you do and if you are the right fit for their needs.
Is the marketing content you're sharing, such as downloads, guides and whitepapers, relevant and unique? Generic CV tips won't cut it here, you need to go specific with your sector advice, targeted at your audience personas. Remember, your personas aren't just about characteristics; they are about pain points, challenges and goals of the business; all of this needs to be considered to create content that adds value.
Step 3. Action
What are you doing to drive people to fill in forms, sign up or reach out to your sales team? Here we're not just talking about a get-in-touch button, it's about all the ways a potential client could engage with your brand and provide that data capture for your consultants. This could be gated content pieces, webinars, events or community pages. Make sure these calls to action are accessible and relevant for each landing page; testing page layouts to see where forms perform best is a great way to improve UX and conversion rates.
Step 4. Loyalty
It's one thing winning the contract for the first time, but what are you doing to retain client relationships?
Harnessing content to reinforce your position as a specialist recruitment partner, passionate about supporting clients' success, is just as important as driving new leads. Your clients will go through many iterations throughout their lifetime, meaning their goals and challenges will evolve, so your content and messaging must evolve too.
The business case for B2B marketing investment
For a long time now, the recruitment industry has focussed heavily on candidate attraction, spending time improving the talent experience to increase applications. Now the market has shifted, and agencies are suddenly faced with an urgency for clients. Whilst some agencies have never had to try when it comes to their business development, the entire industry has now been burdened with the effects of an impending recession and tightened business budgets.
Due to this, shifting marketing focus to B2B has never been more important. Generic content is not enough to attract and convert in this competitive market. Instead, agencies need to be crafting content that builds trust and flooding websites with proof of your expertise. B2B marketing can be intimidating, and it can be hard to know where to start.
B2B marketing is all about ROI, and some marketers will have to fight for the budget to invest in their strategy. Getting buy-in is all about showing the return to your stakeholders. In order to get your team to commit to producing content, supporting with case studies and providing industry insight, you've got to show what's in it for them.
Consultants aren't going to take time out of their day unless they are clear on how their contribution will affect their ability to close a deal. So marketing needs to display how their activities will make their lives easier in order to get buy-in.
Educating the wider business on the role of MQLs and how valuable content can deliver warm leads into the business is a great place to start.
The role of marketing is to start conversations, entice the audience and ensure the content is speaking to the right people. With a consultant's job getting harder and harder, the more you can show the monetary value for them, the more they will support the cause.
Creating content that adds value
So now we've discussed the importance of relevant value-add content, it's time to explore how to approach it. Content should be unique, relevant and valuable to the reader; to create this, there's an easy checklist you can follow:
Keep your content clear, concise, compelling, credible and include a call to action.
Research shows that you have 3 seconds to grab the reader's attention, 30 seconds to engage them, and 3 minutes for them to read the content. With this in mind, we've got a few do's and don'ts you can follow:
Do's
Consider the challenges/pain points of your target client
Choose topics that haven't been done before, or find new angles on trending topics
Know who your decision-makers are
Test multiple forms of content, don't just write blogs
Research which content forms work best for your customers and industry
Research keywords and search queries first
Discuss topics with your consultants
Set measurable goals
Always include a call to action
Don'ts
Create generic content that adds no value
Discuss topics that you don't specialise in
Provide no detail and produce content pieces with no depth
Expect short-term results
Write content for you, choose topics your customers want to learn about
Be afraid to repurpose content
Emotion-based marketing and how it works in recruitment
Having an emotion-based content strategy allows you to resonate with decision-makers on a deeper level.
This framework categorises businesses based on their size, maturity, and goals. This theory considers typical growth patterns in a systematic way to map out common challenges and milestones at each stage. Using this framework, marketers and salespeople can identify ways to engage with prospective client leads and create content that initiates valuable conversations.
Considering the 5 chapters of business growth
Every business goes through a typical growth timeline, mapped by certain milestones and periods of acceleration. From start-up to funding and growth, business needs change and evolve over this lifecycle, as do their recruitment needs.
Using this structure, recruitment agencies can develop marketing strategies that target businesses at various stages, communicating with highly relevant content and campaigns custom to their needs.
In our latest download, "Creating Content for the 5 Chapters of Business Growth", we've taken a deep dive into the stages a business goes through, exploring the emotion and motivators that drive decision-makers as they experience different phases of growth. This guide aims to support marketing activity by identifying opportunities and emotions felt at each stage.
For example, a start-up will be facing very different challenges and emotions to a mature business. Likewise, a company that has just received a large amount of private investment will have pressures that will change their priorities and expectations from a recruitment partner.
Below are some examples of the different emotions felt at each stage and how your tone should change to meet client needs.
| | | |
| --- | --- | --- |
| Chapter | Emotion | Need |
| Start-up | Loneliness, Excitement, Overwhelmed | Sympathy, Empathy, Market Understanding |
| Seed Round and Acceleration | Uncertainty, Fear, Hope | Advice, Support, Analytical Thinking |
| Growth and Funding | Enthusiasm, Confidence, Pressure | Insight, Adaptability, Ability to Scale |
| Venture Capital Investment | Anxiety, Apprehension, Pride | Strategic Planning, Understanding of VC Expectations, Foresight |
| Ready to Sell | Excitement, Satisfaction, Nostalgia | Honesty, Legal Know-How, Understanding of Mergers and Acquisitions |
4 content examples for client attraction
Understanding the emotions driving decision-makers is the first step to producing content that resonates with potential customers. We've collated a couple of examples of targeted content that has been crafted to attract client leads and ignite conversations.
1. CSG: The Future of Tech is Mining
CSG are executive search recruitment experts who specialise in delivering senior-level talent globally. One of their specialist industries is Energy and Natural Resources; within that field, they recruit mining talent and deeply understand the skills required for the modern-day mining sector.
The challenge facing CSG's client base was the struggle to find mining talent with the digital skills needed for modern-day roles. CSG had the research and the expertise to understand that the tech industry talent held a lot of transferable skills that made them perfect for mining jobs.
This talent report was crafted to showcase CSGs industry expertise, providing research to help hiring managers and director-level decision-makers find a new generation of talent. CSG recognised that many businesses in that sector didn't know where to find transferable skills and were unaware of the talent potential in the tech industry.
As thought leaders in their space, CSG like to do things differently and lead a new approach to finding talent. With this guide, they wanted to challenge the norm and provide their community with talent insight, positioning them as an innovator in the market.
This report explores predicted market trends, cross-industry skills and how mining can expand its talent pool. Aimed at high-level directors, this report attempts to change the perception of the traditional mining industry to help businesses grow and flourish.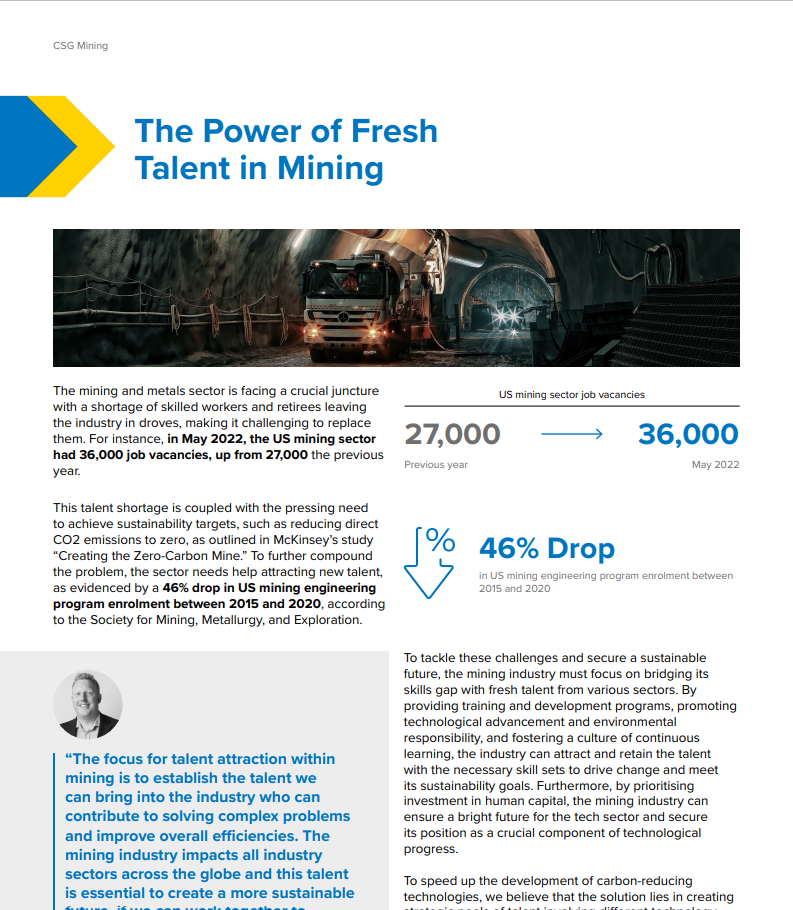 2. Pareto: How To Retain Talent in a Challenging Market
Post-pandemic, Pareto's community, like many businesses, were suffering the effects of the great resignation. With Sales roles, in particular, seeing high turnover rates due to the challenging market, businesses were seeking advice on retaining staff and navigating this new challenge.
Pareto provided this guide to offer practical advice for hiring managers and smaller business owners, offering insight unique to Pareto as a leading sales recruitment and training provider.
This guide explored employee retention strategies, enhancing company culture and common causes of high staff turnover. Targeting hiring managers and business owners to help them empower employees and maintain strong teams.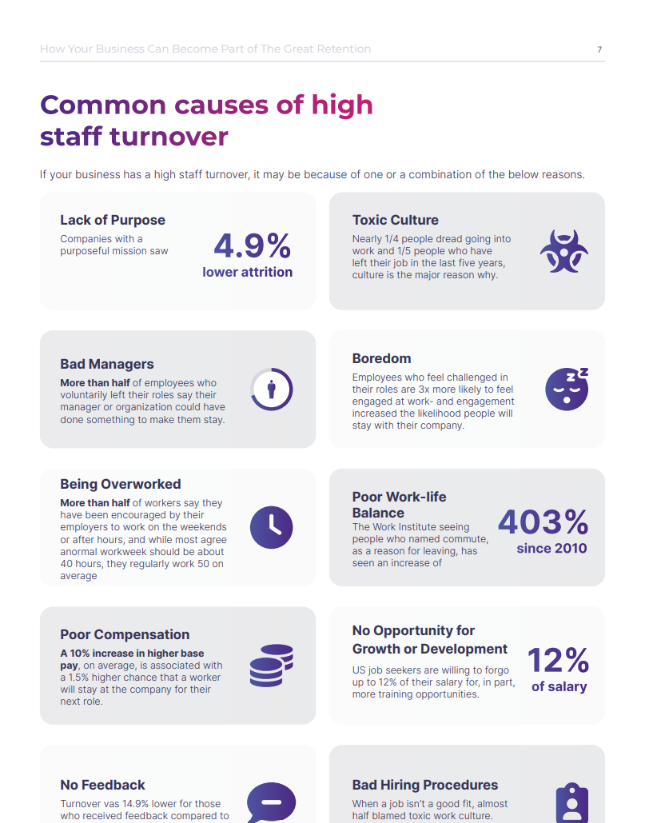 3. Armstrong Craven: Armstrong Craven Review
Armstrong Craven is unique in their approach to talent sourcing and specialises in mapping, pipelining and insight projects, making them a challenger brand to the traditional executive search firms. In line with their brand position, they produce frequent reports to explore industry trends and lead new conversions within their sector.
The Armstrong Craven Review is designed to facilitate conversations with potential clients and be a platform for new ideas, positioning them as thought leaders.
Aimed at CRHO and Director's of Talent Acquisition, this guide explores thought pieces, video debates and podcasts to engage a senior-level audience.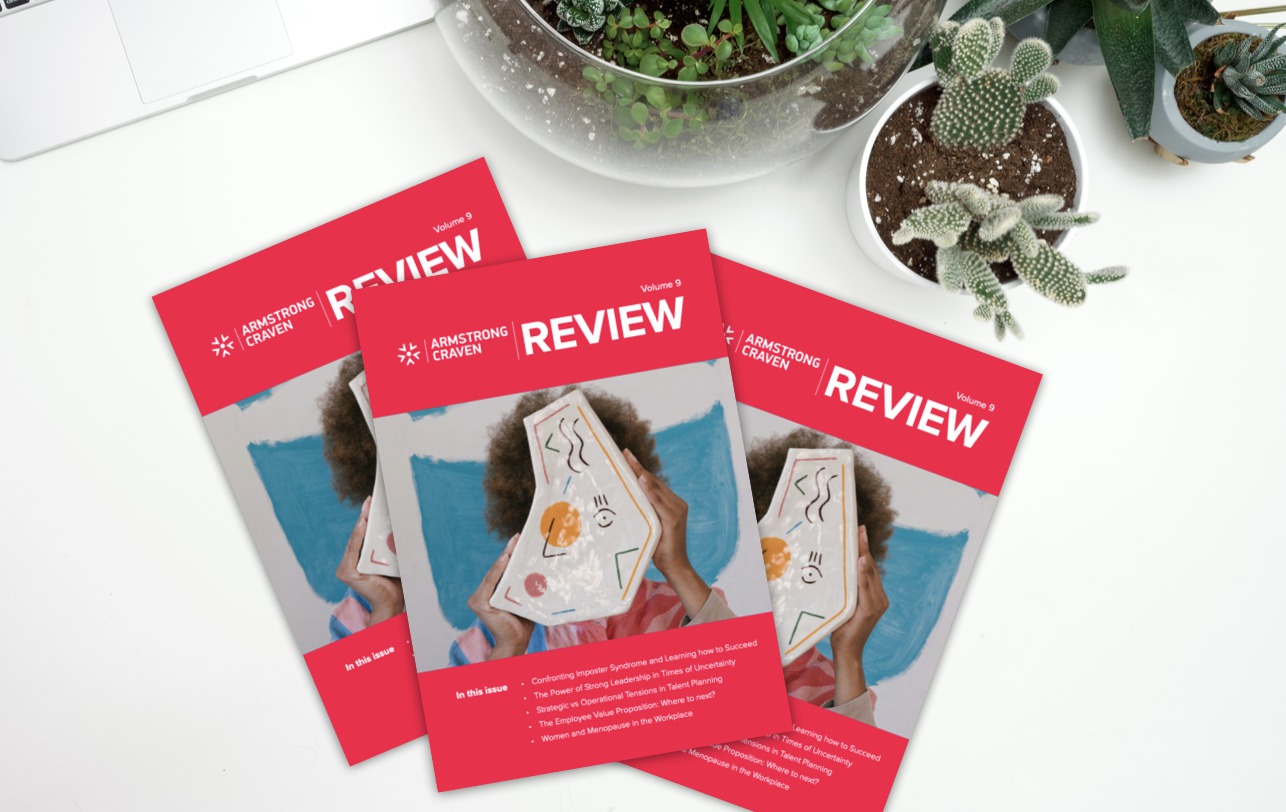 4. Pareto: Future-Proofing Your Sales Team: Attracting and Assessing the Right Competencies in Gen Z
To educate hiring managers and small business owners, Pareto designed a guide that offered advice on future-proofing teams. Driven by the desire to help hiring managers navigate the new generation of talent, this piece identifies with business leaders to provide empathetic support.
From experience and research, Pareto found that a lot of senior leaders and business owners had a lack of understanding when it came to what motivates Gen Z talent. With businesses seeking advice on how to be good employers and offer competitive packages, Pareto wanted to be there as the partner of choice.
The impending challenge of hiring Gen Z talent meant that a lot of businesses were looking to learn about what attracts this generation and what they look for in a career.
This piece explores the impact of Gen Z talent, how to speak with this generation, how to empower this generation and future-proofing your sales team. Backed by loads of research and survey results to give helpful insight for business leaders.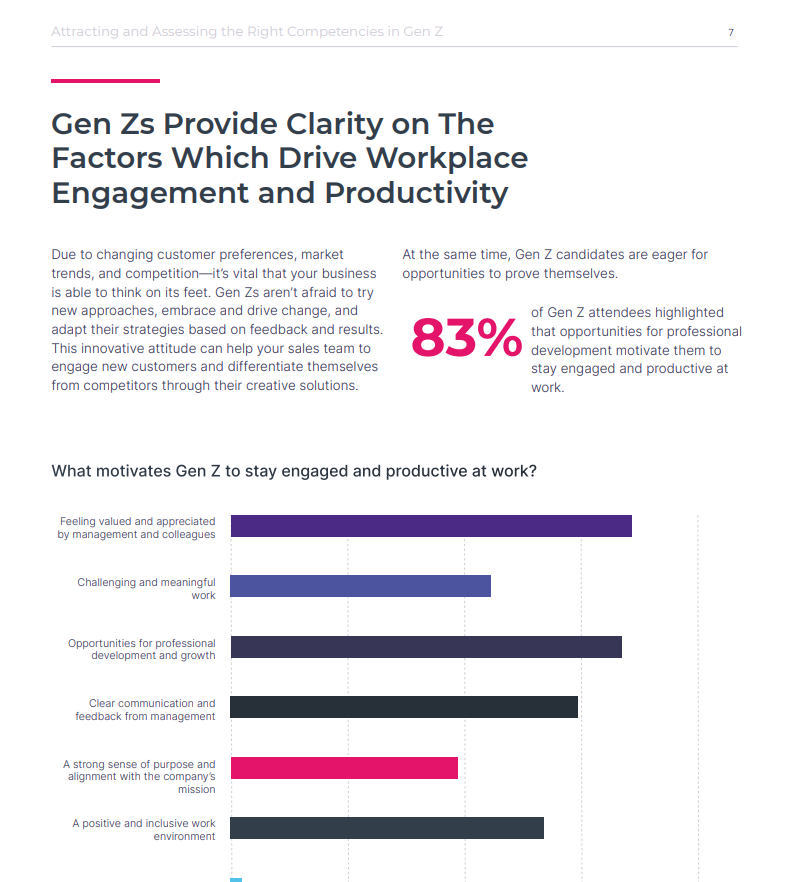 ---
As detailed in our recent download guide, the 5 chapters of business growth map out a typical business lifecycle. From start-up to sellout, you can explore different drivers, challenges and themes depending on who you are trying to attract and the expectations of the decision-maker.
Download the guide today to discover more about the business growth cycle and how to target decision-makers with your content.