What a year it's been!
2022 has been a year of growth. As the demand for the Vennture platform has boomed, we've welcomed new team members, new clients and new digital partners, expanding further into the recruitment industry.
Off the back of this year's successful Vennture platform launch, we've had a record-breaking 12 months, doubling the size of the business, resulting in a 100% increase in growth.
"I'm delighted we now have a clear focus on MarTech solutions for the recruitment and careers industry, and I'm confident that we will surpass our revenue target in 2023." - Brian Whigham, Founder of Venn.


Meet our new team members
To meet the growing demand from our new clients, we've been busy investing in new talent and restructuring our team to provide the best possible service. Here are all the people that joined us in 2022.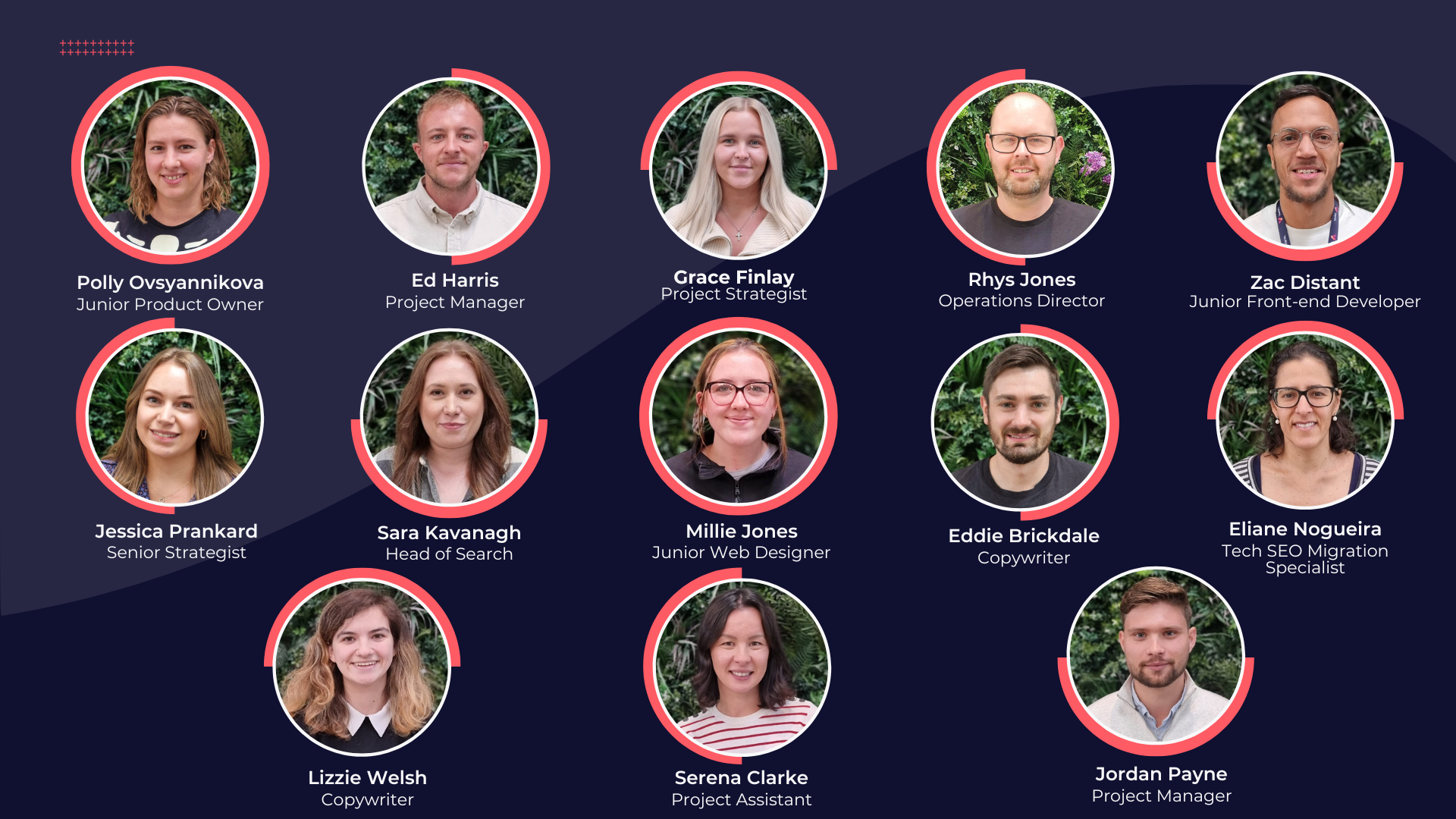 This year we've received incredible feedback on our Vennture platform and full-service approach. To ensure we've got the resources needed to deliver websites, campaigns and support for our growing client base, we've expanded our team. More people means we need more space, and we're thrilled to announce that we will be opening up a new tech HQ in Alderley Park.
"Looking ahead, we've budgeted for 30 new team members in 2023 already to increase our capacity in line with the growing number of clients." - Rhys Jones, Operations Director at Venn.
Some of our favourite projects
We've grown exponentially this year, onboarding over 30 new clients and launching 27 websites. We've supported agencies large and small, designing industry-leading websites and revenue-generating campaigns. Some of our stand-out projects include:
Pareto
Pareto are market leaders in transformation & growth. They assess, place and train the best talent through apprenticeships and graduate schemes to deliver the best sales leaders. We've worked with the Pareto team for over ten years, but 2022 brought us a new digital challenge. The brand wanted to retain its position as a market-leading graduate recruitment agency but also attract diverse learners from various backgrounds through its apprenticeship programmes. We needed to update the existing website so that the look and feel could appeal to graduates at a candidate level whilst demonstrating the expertise that prospective clients desire.
How we helped
A separate dedicated website for candidates, optimised for talent acquisition.
Updated corporate website architecture to allow for service expansion.
Bespoke candidate and client attraction campaigns incorporating video content.
Explore the new candidate website here.
3Search
3Search are a marketing recruitment company based in London that covers all aspects of marketing, from product management to PPC. The brand needed to display authority within its market and expertise across its specialisms. With a well-established reputation in digital marketing, 3Search were looking to build awareness for their other sectors through a web build and SEO strategy.
How did we help?
A refined brand identity and website design to display expertise in the UK and USA.
An SEO strategy to target core specialism keywords and boost authority.
Grow presence in USA market with an international web build.
An optimised website journey to increase candidate applications.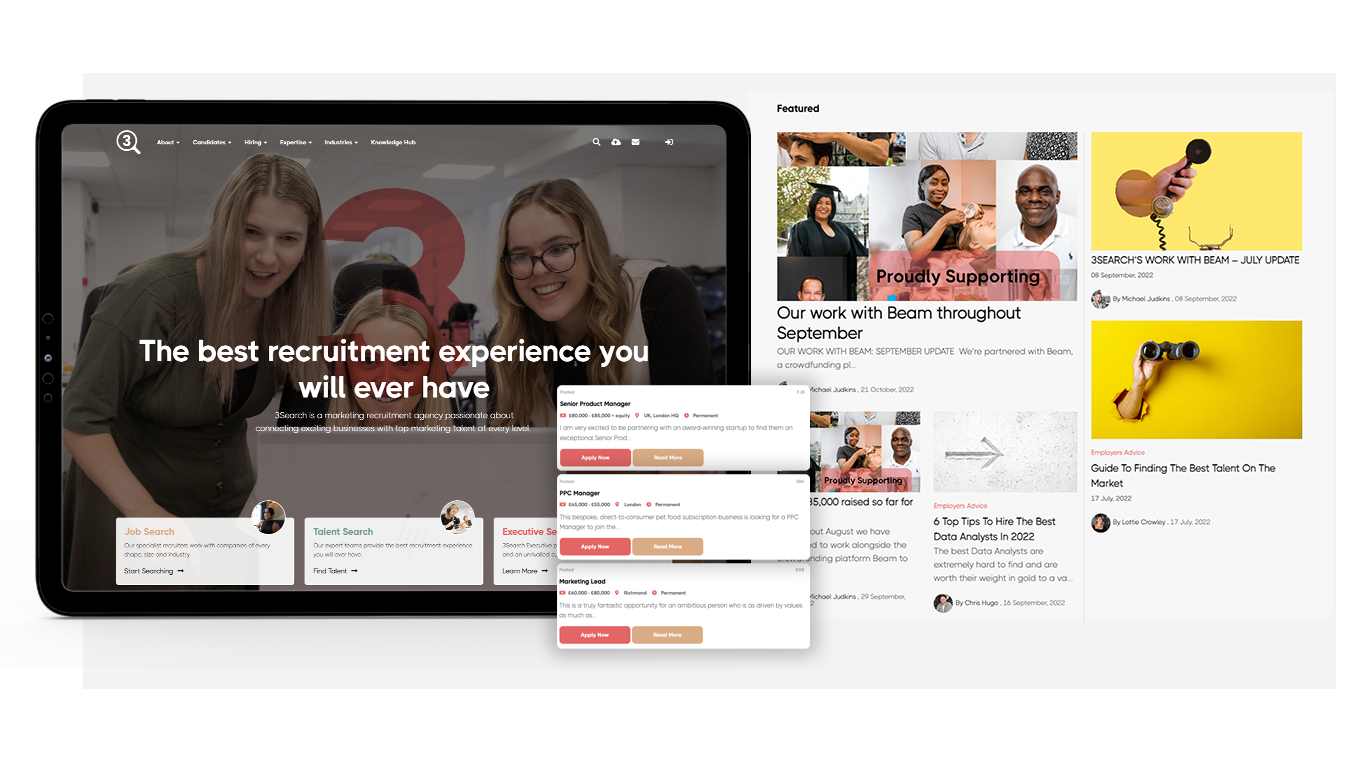 First Point Group
First Point Group are an award-winning telecommunications and network technology recruitment company that came to Venn looking for a best-in-class website solution. Working closely with FPG's Head of Marketing, we designed and built a candidate-focused website that optimised the candidate experience and user journey.
How did we help?
A flexible, universal site with the potential for individual landing pages in multiple languages.
A secondary site clone for the Asia market.
Seamless recruitment integrations for an optimised candidate and consultant experience.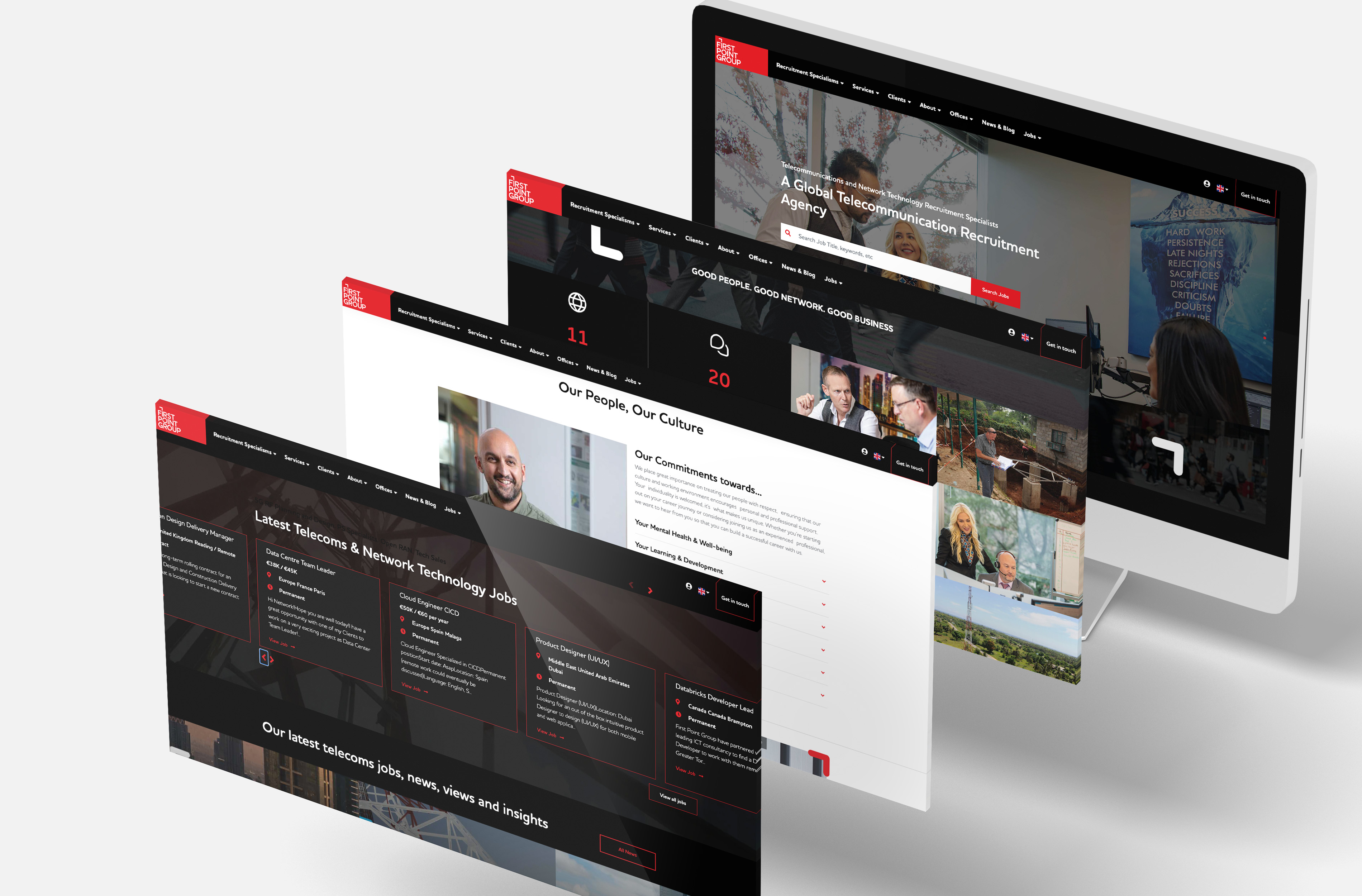 Evolution of the Vennture platform
This year has been all about stability and accountability; our product team have been hard at work optimising the Vennture platform for users now and in the future. As always, flexibility and user experience have been our top priorities, which is why we've continued to dedicate our attention to your requirements as part of our roadmap.
As we head into the new year, we're looking at new ways to improve the platform, working closely with our community to identify new features and functionality that will enhance the experiences for customers, candidates and clients.
We aim for transparency and encourage all Vennture users to submit feedback and ideas to our team. Hosting regular community events such as the Recruitment Marketing Collective, we're doing everything we can to listen and support clients and non-clients, sharing knowledge to help recruitment agencies do more with digital.
What's next for Venn?
"This has been our most successful year to date, and we're riding the SaaS wave into the new year, investing significantly into our team, culture and Alderley Park tech hub HQ. Looking back on this year, I'm incredibly proud of the team and all the hard work that went into the platform, processes and products to help us take another step closer to becoming the market-leading recruitment and careers website provider." - Brian Whigham, Founder of Venn.
After investing heavily in the size of our team, we're continuing to grow as we enter the new year, with 30 new roles budgeted for 2023. If you're looking for a new challenge at a growing tech company, we'd love to hear from you.
We've got a variety of digital roles open for junior, senior and apprenticeship-level talent. Visit our careers site to learn more about life at Venn and our available jobs.