Last year the rules and regulations around cookie policies and the way that businesses must disclose tracking on their websites changed. This means that if you use cookies on your site, you must meet the new compliancy rules, giving users a clear explanation of what they do and why you are collecting this data.
Whilst maintaining the cookies on your site is entirely up to you and dependant on your businesses set-up, Venn are here to support. We've recently helped several clients update this area of their site to give users more information and a clear way to opt-out of cookie tracking.
To help you navigate the sometimes complicated world of cookies and ensure you're following the most up-to-date guidance, we've done the hard work for you and pulled together the latest information.
What is a cookie?
"A cookie is a small text file that is downloaded onto 'terminal equipment' (e.g., a computer or smartphone) when the user accesses a website. It allows the website to recognise that user's device and store some information about the user's preferences or past actions."
Although not a physical part of your site, cookies play a key role behind the scenes. They track users and collect data to enhance overall experience, providing businesses with a range of valuable insights for future marketing use. Having a cookie banner alerts users of your policies, acting as a consent form before they continue. Your banner should offer a transparent explanation of what information you are collecting and how you will handle this data in line with GDPR, giving them the option to opt-in or out whilst linking away to your privacy policy.
Non-compliance can cause issues for you as a business, so it's essential to review your current setup and adjust in line with these new regulations.
What are the regulations and how have they changed?
Since last year the rules have become tighter. As a result, what was once acceptable is no longer best practice and new guidelines have been published to support businesses online.
Prompted by Brexit and the effects that it had on UK GDPR policies, businesses must now follow these 3 key principles:
Tell people the cookies are there.
Explain what the cookies are doing and why.
Get the person's consent to store a cookie on their device.
If this guidance is followed when a user first enters the site, that same person will not need to repeat the action. However, you should repeat the process if your policy changes over time, ensuring everyone has access to the most up-to-date information.

What counts as consent?
The most significant change in the way businesses must now display their cookie policies is that consent must be freely given before a user can navigate the site. A clear action such as ticking a box or selecting yes/ agree must be conducted before a user can continue. Businesses must ensure that they are providing all relevant information for the user to understand what they are agreeing to. Having your cookie policy information tucked away on a hard-to-find page, is no longer enough.
What should your new cookie banner look like?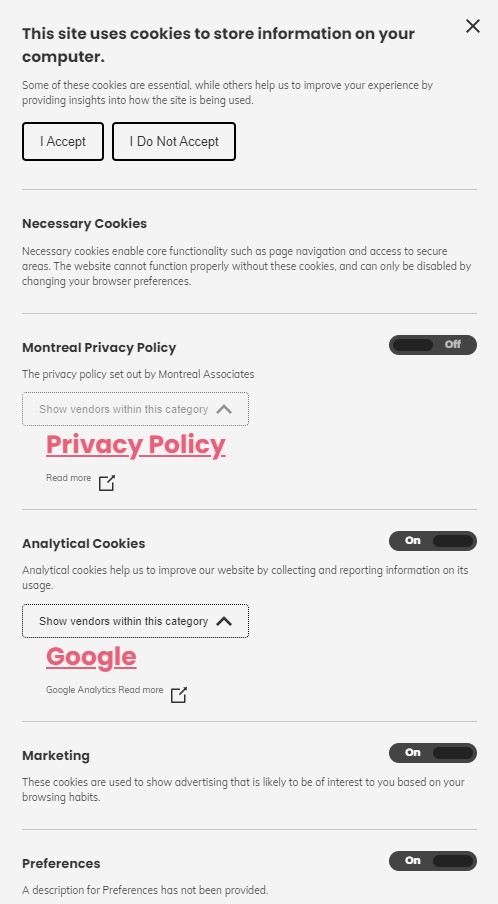 Reject all button is recommended.
Highlight each cookie purpose for user upon first entering the site.
Ensure users have given consent before allowing them to continue through the site.
Link off to your privacy policy and any third-party policies.

These recommendations ensure that the user clearly understands what they are agreeing to. Care must be taken by those businesses collecting more sensitive personal data, for example those in the healthcare industry.

What you need to consider before installing a cookie banner.
When choosing a cookie banner, there are certain questions you should be asking:
Does this banner comply to the latest regulations?
How much does it cost?
Will it integrate seamlessly with my site?
How will it integrate with other third parties such as Google?
Not to fear, once again, we've done our research to find our recommendation. We have previously used Civic UK as a solution for several of our customers. With multiple pricing options, they offer customisable solutions for every business. You can find the full features and pricing list here.
How we help.
Our support team can work with you to create a banner that's in keeping with your website, remains compliant with the new regulations and meets your expectations.
Updating your cookie banner is entirely up to you as a business. But if you need some assistance, we are on hand.
If you are an existing support customer with Venn, we can use your support hours to install the banner quick and easily. If you're not a support customer, simply get in touch, and we can give you an individual quote.
---
Still got some questions? Get in touch with a member of our team today to learn more about how we can help you stay compliant.